Visit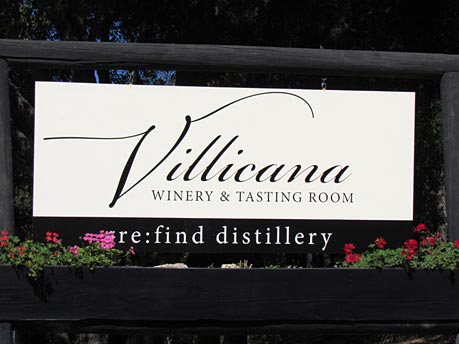 We are located on the west side of Paso Robles at
2725 Adelaida Road. 805-239-9456
Tasting Hours
Tastings: Tuesday - Sunday
Reservations Encouraged
Click Here to Make a Reservation
In order to provide our guests with a memorable, personal tasting experience, we have limited our capacity.
For Tastings
A $25 tasting includes both Villicana Wines and Re:Find Spirits (most people choose to share 1 flight).
Each $25 tasting fee is waived with the purchase of 2 bottles (wine and/or spirits).
Tasting costs are waived for club members and 2 guests (4 total).
When booking a reservation, please account for the number of people in your party (including children and designated drivers), not the number of people tasting.
If you are more than 30 minutes late, we may not be able to accomodate your tasting.
If you have more than 6 people in your group, the credit card you provided will not be charged unless your group does not provide us with cancellation notice by 10:30 AM the day of your reservation. The card will be charged $25 x the number of people on the reservation.
Dogs are welcomed on leash and with their owners.
We are a no smoking property.
---
Click here for our current tasting list/notes
---
We encourage you to enjoy our wines responsibly. When wine tasting in Paso Robles please designate a driver or arrange for a professional driver.
Toast Tours - (805)400-3141 - https://toasttours.com
Lush Limo - (805)226-5558 - http://lushlimo.com
Uncorked - (805)459-4500