Shipping Information
Due to legal restrictions on shipping alcoholic beverages, we are only permitted to ship our wines to the below mentioned states. Our Re:Find Spirits can be shipped only to California addresses. If you are interested in finding out more about the prohibition on shipping wine or where your state stands on the issue we urge you to visit www.freethegrapes.org. We also recommend www.wineinstitute.org
California, Arizona and Nevada orders are shipped via Golden State Overnight. All other states are serviced via UPS. An adult signature, someone 21 years of age or older, is required by law for the delivery of wine.

Rates are as follows per delivery address.
Number of
Bottles

Within
CA, NV or AZ
Within WA,
OR, CO or NM
Out of State
Central/Eastern

1-2 Bottles
3-4 Bottles
5-6 Bottles
7-12 Bottles

$19.00
$21.00
$24.00
$26.00


$24.00
$27.00
$31.00
$44.00

$26.00
$36.00
$41.00
$51.00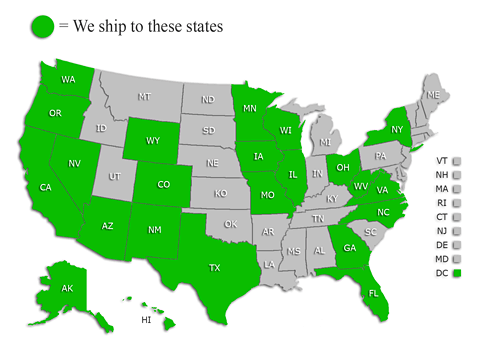 PRIVACY STATEMENT
We understand that your privacy is of extreme importance to you. We respect your privacy and appreciate your trust. Therefore we will not and do not sell or share any information about our customers to anyone outside our organization. All purchase transactions and e-mail correspondence is kept private.
We recognize that security is of the utmost importance in an on-line shopping experience. We have made security a top priority for us as well and have data encryption software that encrypts your data before passing it over the Internet. We have also designed a secure mode for transmitting that information.
We do not use cookies to gather personal information you have not provided us.
REFUND POLICY
All sales are final. We strongly stand behind the quality of our products. If your purchase is corked or somehow defective we will gladly send a replacement bottle.