Paso Robles Craft Distilling Unveils
Re:find Handcrafted Vodka & Re:Find Handcrafted Gin
The area's first craft distillery creates the ultimate in sustainability with
high-end spirits made from premium Paso Robles grapes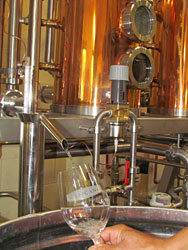 PASO ROBLES, CA (February 17, 2012) On March 28, 2012, Paso Robles Craft Distilling, Paso Robles' first craft distillery will launch Re:find Handcrafted Vodka and Re:find Handcrafted Gin, new spirits made with premium grapes from the celebrated Paso Robles wine region, www.refinddistillery.com. This venture is distinctive from other spirits currently on the market as they are the first to utilize premium Paso Robles-grown grapes as their base, a luxury too expensive for most distilleries producing spirits from potatoes or grains.
This project is the brainchild of Villicana Winery's founder Alex Villicana and his wife, Monica. The Re:find brand is the result of the couple's desire to promote and encourage sustainability by utilizing existing, unused resources to create a high-end, local, artisan product. This concept of finding a new use for wine and refining it into spirits is basis for the name Re:find.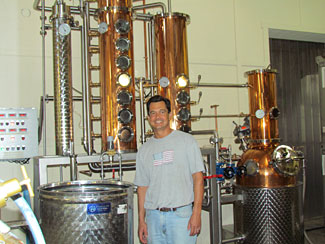 Often, winemakers bleed a percentage of the free-run juice from red grapes before fermentation to concentrate and enhance the quality of their red wines, and this bleed, the saignée, is often discarded. By fermenting this bleed and then triple distilling it, Paso Robles Craft Distilling has found a new use for saignée. They are not making grappa, which utilizes what is left over after fermentation; rather they are using the prized free-run juice removed prior to fermentation.
"Every harvest, I would rack my brain to find another viable use for my saignée," says Villicana, who is also Chairman of the Board of the Paso Robles Wine Country Alliance. "Some winemakers use their saignée for Rosé, or they pour it down the drain, and I just knew there had to be a better use. My research paid off, and after years of planning, my saignée now has a new purpose, a very special, high-quality vodka and gin, which is the ultimate in spirit-making sustainability."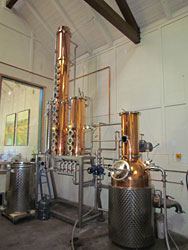 This is truly a craft distillery. Villicana personally planted his vineyard and each year farms and harvests the grapes. He crafts the wine and does all the distillation of the spirits at his winery in Paso Robles. This is truly a vineyard to bottle operation. When asked what the spirits taste like, Villicana responds, "Just like any product, if you start with a great base material, with care, you end up with a better end product. Re:find vodka and gin have a soft and smooth mouth-feel, and because the gin is made from the same material, it surprises those who usually shy away from it."
Re:find Handcrafted Vodka and Re:find Handcrafted Gin will be priced at $34 per bottle, with only 600-1,000 cases produced in the first year. The owners are in the process of selecting a distributor, and more information will come at a later date. In the future, Villicana and Paso Robles Craft Distilling plan on crafting bourbon (based on estate-corn, wheat, and barley) in addition to vodka and gin. They do give tours Thursday – Sunday.
About Paso Robles Craft Distilling
Paso Robles Craft Distilling is a sister company of Villicana Winery both of which are located at 2725 Adelaida Road in Paso Robles, California. To learn more, please visit, www.refinddistillery.com.
---